Freya Eilif Beauchamp
Biological Information
Name

Freya Eilif Beauchamp

Age
Born
Status
Titles
Killed by
Occupation

Bartender
Princess of Asgard (formerly)

Residence
Physical Information
Gender
Species
Skin Color
Hair Color
Family Information
Relatives
Magical Information
Basic Powers
Individual Powers
Significant kills
Belongings
Appearance
Portrayed By

Mary Kate Englehardt (young Freya)

First Appearance
| | |
| --- | --- |
| " | I am a smart stalker lady and a bad-ass witch! |
Freya Eilif Beauchamp is a main character in Witches of East End and a very powerful witch. She is the daughter of Joanna and Victor, twin sister of Frederick, younger sister of Ingrid, and niece of Wendy.  She currently resides in East End and works as a bartender. 
Personality
Freya is a warm, feisty, and caring young woman who works as a bartender for The Bent Elbow, a local bar in East End. Much like her Aunt Wendy, she is quite liberated and doesn't really let anything stop her from helping the people she cares about. She is more than ready to use her gifts and talents to help out whenever she can. 
She is not as conservative as her mother with regards to her powers, neither is she as mild-mannered and shy as her older sister, Ingrid, is. As a contrast to them, she is much more emotional and is unafraid to make her feelings known. However, it is interesting to note that she is much different from her novel counterpart, being less adventurous and provocative.
She is a lot more open when it comes to meeting long-lost family members compared to her sister, as seen with Victor and Wendy. She even asked her dad to walk her down the aisle for her wedding, even if they only met a day or two beforehand.
She doesn't like lying, feeling extremely guilty that she had to lie to Dash for so long about being a witch and was mad that her mom lied to her and Ingrid on more than one occasion. However, she is not above going to such lengths if she knows it's for the best. 
She is a very loving person and she tries her best to make her relationships work, as seen with how hard she worked to make her relationship with Dash work even if her attraction to Killian was becoming something more. But, she does have a breaking point and she isn't afraid to let someone go when she knows that someone better is still out there waiting for her, seen with how she apologetically left Dash on their wedding day to be with Killian, her soul mate  
Biography
Early Life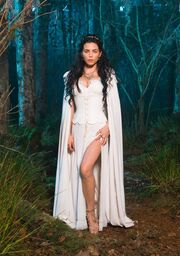 Freya was born in the magical realm of Asgard alongside her twin brother, Frederick. She lived there with her family until they were banished by her grandfather. Along with her older sister, Ingrid, she's cursed to die young and be reborn again and again. Freya and Ingrid have lived through various centuries in their various incarnations. Due to the tragic losses of both daughters over the centuries, Joanna eventually made the decision to spell them in order to keep them safe from the dark forces working against them.
The decision to stop the girls discovering the secret of their magic was difficult for Joanna to keep as Freya knew from an early age that she was different, her power of Premonition often caused her to have psychic dreams and she also was able to read auras. At some point when she was younger, Joanna decided to send Freya to therapy because of this, in hopes that it would convince Freya that what she was experiencing wasn't normal. The decision to keep the sisters away from magic was reversed when Wendy came to East End and their powers were awakened.
Past Lives
In the 17th century, Vidar, a friend of Joanna's handed the girls over to Witch hunters who then burned both sisters at the stake. Due to Joanna's reaction, this could be assumed as their first death.
In 1720, Freya was killed by coming in to contact with Ramus Moritum. In 1875, during her birthday, she was impaled. In 1905 she was alive and living in San Francisco with her lover, Henry, with whom she owned a bar with. Freya then died in 1906 in the great earthquake.
In the 1970's Freya was in a relationship with a man named Dan (Dash Gardiner), together the pair became drug dealers and were well known for their Cocaine which Freya would enchant before selling. Freya lived in fear of her boyfriend but was too scared to leave him. Eventually Freya fell in love with a bartender named Bobby and the pair began an affair. Eventually they made plans to run away and be together. Their plan did not come to pass as Dan later shot Bobby in front of Freya and left her heartbroken.
Becoming A Witch
When Freya was a child, she knew that she had powers that she didn't quite understand. She told Ingrid and Joanna, but Joanna just sent her to a psychiatrist. Joanna wanted Freya to lead a normal life, so she wouldn't be attacked by any magical beings or use her powers, as this always caused her to meet an untimely death. Though her mother, Joanna, attempted to use magic to negate her daughters' powers, the spell did not work well on Freya whose magic if fueled by emotion. During her youth, she began to exhibit signs of her abilities and as such inferred that she was somehow connected to the supernatural Her mother sent her to a psychiatrist to remove the ideas from her head. This didn't work as soon enough, she found out.
Throughout The Series
Relationships
Family
Romances
Enemies
Powers and Abilities 
Freya's powers are ruled by her emotions. This is evident when the white flower resting above her ear turned red upon interacting with Killian and how bouquets of flowers seemed to burst apart after she ran away from him in shame.
Like all other witches, she has the ability to move things with her mind, cast spells, and have limited control over the weather. Though she had a harder time coming into her powers than her older sister did, she was able to save Joanna from an attack by the Shifter by flinging a knife at the latter with her mind. Her powers first manifested as a child when she learned that she can see and read auras like Wendy, her aunt. Freya has definitely come into her powers in such a short period of time, even being able to outsmart and subdue Dash Gardiner (who is quite powerful despite being a novice). She even managed to cast the spell that broke Ingrid's bond with the Mandragora, saving her older sister's life.  
Freya has a natural talent for making potions, something that even her own past lives possess. She came into this talent almost as soon as she started delving deeper into it, surpassing Ingrid in this aspect. She is probably the most talented in brewing potions among the witches of her family, having brewed more than a few successful potions throughout the series, like the potion that allowed her to rid her dreams of Killian and restore her family's memories of the opening of the portal. She can even take a recipe from the Grimoire and modify it easily to suit her needs, as she did with the potion to revisit her past lives. According to Wendy, Freya is the only witch capable of brewing a potion that can cure the effects of Ramus Mortium. Wendy was proven right, as Freya successfully made the potion that cured Dash, Amy, and herself.  
Freya has developed the ability of premonition, which allows her to randomly see visions of various events in different points in time. This has been first seen when she had a vision of Killian only more than a week after he went missing.
Freya's bond with her twin brother, Frederick, allows them to cast a spell that very much resembles astral projection, allowing their astral bodies to be sent anywhere they want to be. They can even cast this spell to locate people, as they did to find Killian.
Like the rest of the Beauchamp women, she was cursed upon being banished from Asgard by her grandfather. She was cursed with never being able to live past the age of 30 through horrible deaths, such as burning at the stake or dying in a great earthquake. However, she gets another chance at life every time she dies. This is because Joanna would be pregnant with Ingrid again not too long after she dies, and soon after, she'd be pregnant with Freya as well. 
Basic Powers
Individual Powers
Premonition

Intuition
Musical Intuition (She knows how to instantly play Killian/Henry's piano song.)
Traveler's Powers
Known Past Lives
Quotes
"And now i have to go ask someone I can't stand to have dinner with someone he can't stand so the someone who can't stand me will finally start to like me." - Freya To Ingrid in A Few Good Talisman.
​Appearances
Novel Counterpart
Freya is described as petite young woman with cat-like emerald green eyes and long, curly, strawberry blond hair.  She is the goddess of Love and is Immortal. She was engaged to Bran Gardiner for a period of time, however her true soul mate is Killian Gardiner. Freya has the power to absorb and alter emotions. She specializes in making love potions, from increasing desirability, to lessening inhibitions. She can also take the form of a black cat and possesses the other basic powers of the Vanir. Freya is the only one of the Beauchamp's to keep her true name as her official name in the mortal world.
Trivia
In A Few Good Talismen, it is shown that Ingrid and Freya were burnt at the stake in 1693. According to the intense wrath of their mother Joanna, either their first death or one she could not predict.
In Potentia Noctis, Ingrid's death is shown to have occurred in 1906. Because of the curse on them both, Freya died shortly after on the same day. It was shown in the season finale that she died of an earthquake the next morning, or a few hours shortly.
It was revealed by Joanna in Today I am a Witch that Freya's middle name is Eilif.

In Scandinavian the meaning of the name Eilif is: Immortal.
In Norse the meaning of the name Eilif is: Wounded in an attack on Hlidarend.

Jenna Dewan-Tatum also played a witch named Tamara Riley in the 2005 horror movie Tamara.
It is known that since Freya and Frederick are twins, they may have combined powers.
Though Freya may be younger than Ingrid, Jenna Dewan is actually older than Rachel Boston.
Both Ingrid and Freya have had their powers taken by main antagonists.
Community content is available under
CC-BY-SA
unless otherwise noted.