Wendy Beauchamp
Biological Information
Name

Wendy Beauchamp

Age
Born
Status
Titles
Occupation

Princess of Asgard (formerly)
Beauchamp Apothecary co-owner (formerly)
Voodoo-Shop Owner (currently)

Residence
Physical Information
Gender
Species
Hair Color
Family Information
Relatives
Magical Information
Basic Powers
Individual Powers
Significant kills
Belongings
Appearance
Portrayed By
First Appearance
Last Appearance
| | |
| --- | --- |
| " | "Everything you do is righteous and justified and everything I do is wrong, even when I'm trying to help" |
Wendy Beauchamp is one of the main characters of Witches of East End and a very powerful witch. She is the younger daughter of King Nikolaus, the younger sister of Joanna Beauchamp, sister of Helena Beauchamp, the sister-in-law of Victor Beauchamp, and the aunt of Ingrid, Freya, and Frederick Beauchamp.
Personality
Wendy is a bright, eccentric, and sultry witch who has a brilliant sense of humor. Wendy is a rather devil-may-cry type of person, talking casually about how many times she has died over the centuries because of her curse. She is liberated, doesn't really dress for her age, and is not afraid to speak her mind, much to her older sister's annoyance.   
She enters the series concerned for her sister and her nieces' well-being, coming all the way from New Orleans to warn Joanna of a great danger. Wendy got really agitated when she learned that Joanna had decided not to tell Ingrid and Freya about their powers as witches and, unlike Joanna, she decided to teach the girls how to use their powers. Wendy encourages her nieces to embrace their heritage and to see magic for how beautiful it really is. 
Wendy is not without her own brand of vulnerability, as she was deeply apologetic for spewing hateful remarks at her sister when she was being corrupted by the Serpens Clavem. Wendy outwardly says to her sister that she really misses her nephew, Frederick, so much and they bond over their shared longing.
Upon the start of the second season, Wendy has exhibited a more grounded, mature, and realistic side to herself, since she is on her last life and her sister is dying from the Argentium poisoning. Though she doesn't want her sister to die, she knows that the Argentium has took its toll on Joanna's body and her sister may not have much time left. 
When her nephew, Frederick, comes back into the picture, Wendy has a hard time trusting him because he betrayed the Beauchamp women and his father and apparently left them to the mercy of King Nikolaus. Even when Joanna is apparently healed of her affliction by Frederick and mother and son convince her otherwise, Wendy is still very wary of Frederick's actions. This distrust grew into a new high when she and Joanna witnessed Frederick cast a suspicious spell in the woods. Despite Frederick successfully convincing Joanna he can be trusted, Wendy wouldn't have any of it, laughing off how Joanna fell for her son's words. Eventually she learned to trust him after he saved her from The Mandragora.
Biography
Early Life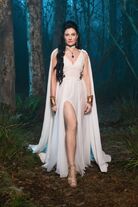 Joanna and Wendy, were both born in the realm of Asgard, where they lived with their father and Joanna's son Frederick. It is not certain, when they born. We can tell that they have lived for centuries. At some point the girls were cursed and banished from Asgard by their grandfather which ultimately led them to enter the mortal world. In Pilot, some flashbacks occur, of the girls being burned at stake. This might have happened in the 1600's when the Salem witch trials occurred in 1692. In the 1900's, Wendy was co-owner of the Beauchamp Apothecary with her sister Joanna. The Apothecary was widely sought out by the towns who were seeking cures. In 1905 Wendy was forced to leave the Apothecary, as her attempt to kill Archibald Browning resulted in the death of her niece, Ingrid. Joanna ordered Wendy to leave and never return, so for the next hundred years that is what she did. After leaving the Family, she moved to New Orleans, where she setup a Voodoo Shop. Wendy has had several husbands throughout her lifetime, she is also a Widow to her former husband.
Wendy came to East End  in 2013, to warn Joanna about evil that is out to get her and her daughters. While Wendy came, she learned that Joanna wanted to hide the fate of Ingrid and Freya, to which Wendy was irritated with. Wendy, then went against Joanna's wishes and taught the girls all about their powers and that they are witches. This was mistaken wrong, as Ingrid almost killed herself trying to change a spell, even though Wendy told her, that it would be dangerous.
Throughout The Series
Relationships
Family
Romances
Enemies
Wendy's Pendant
Main article: Wendy's Pendant
necklace
that she wears at all times which she has had for  generations, the Pendant features two green coloured stones, one larger than the other. Wendy never removes her Pendant as it is magically linked to her
Nine Lives
. The colour of the gemstones were blue in
Asgard
before she was cursed by her
Father
. When her Father cursed her, they became green. Once she entered her last life the stones changed from green to red. This occured in 
Unburied
 after she was killed by
Ingrid's past life
. It finally turned black when Wendy gav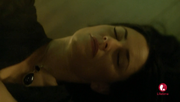 e her last life in order to resurrect Tommy for the sake of his and his daughter's. This occured in For Whom the Spell Tolls.
Feline Form
Wendy's main power is her ability shift into a black cat, she gained this ability when she was cursed with Nine Lives. Because she is technically part cat, she has enhanced senses, including Enhanced hearing which gives her an advantage in certain situations, she is also able to track people by their scent when in Cat form.  Wendy's curse still affects her when she is in the form of a cat, as when she was run over by a car, she reverted to her original form and died from her injuries, only to be brought back to life shortly after. She is partial to a glass of milk after shifting back into her human form.
Deaths
Wendy has died 10 times in her lifetime. Each time, she dies she loses one of her nine lives, one of which isn't valid since she was resurrected by Ingrid. After sacrificing her last life, Joanna and Ingrid visited Wendy's alternate counterpart in another dimension and asked her to give Wendy half of her lives.
Wendy has died from: 
Powers and Abilities
Wendy is a witch whose power is derived from her gut instincts. Like any other witch, she possesses the ability to move things with her mind, cast spells, and have limited control over the weather.
Wendy is capable of seeing and reading another being's aura much like her niece, Freya. She has also shown an affinity for reading and interpreting the Tarot, something that she does in the series more than once. She is even skilled at brewing potions, but not as good as Freya. Her time as an owner of a Voodoo shop in the French Quarter of New Orleans allowed her access to a few neat tricks that are rudimentary, but effective nonetheless.
Wendy is a considerably powerful witch. Though she is no Joanna, Wendy is powerful enough to stand against her sister who was trying to keep her from opening the portal to Asgard with the Serpens Clavem. She has impressive telekinetic abilities and has cast more than a few considerably powerful spells throughout the series, like counteracting the omens Penelope Gardiner sent on the day of Freya's wedding and saving Ingrid from being killed by the disastrous after-effects of her written spell. She is also proficient in using healing spells, a trick she isn't afraid to pull to get out of trouble. She also successfully prepared the spell that broke Ingrid's link with the Mandragora.
Wendy has the ability to change her form into a black cat (still wearing her pendant around her neck) at will, shedding off all the clothes she wore before transforming. Wendy's curse still affects her when she is in the form of a cat, as when she was run over by a car, she reverted to her original form and died from her injuries, only to be brought back to life shortly after.
Like her sister and her nieces, Wendy suffers from a curse cast on her by her father upon banishing her from Asgard. It is a form of immortality where Wendy has nine lives to live. Whenever Wendy dies, she loses one life and another one begins. It appears that Wendy can tell if she still has more than one life left through the golden pendant she wears. Before she was cursed by her father, the pendant was blue. Whenever she has more than one life left, it's green. Otherwise, it is red.  
Basic Powers
Individual Powers
Appearances
Notes
Novel Counterpart
Wendy does not exist in the book series. She was created solely for the series. Originally, she was brought in only for the pilot but the network loved her so much that they brought her in as a main character.
Community content is available under
CC-BY-SA
unless otherwise noted.